Quiet Flows the Rhine
German General Officer Casualties in World War II
World War II was the most devastating war in all of history. Millions of soldiers of both sides were killed in action; tens of millions of civilians (either deliberately or inadvertently) were killed as well. Most military casualties were suffered by lower ranking enlisted personnel, frequently simple, but courageous infantry soldiers.
However, many general officers died as well. Direct combat, illness, suicide, executions and accidents claimed leaders from every combatant nation. But in no country were these losses as large or their impact severe as in Germany, where over 600 died. This work primarily examines the approximately 150 division, corps and army commanders, who were killed in action or died of wounds received in action. Some, who died in front-line related accidents, will also be examined, as will some general officer suicides that occurred at the front as well.
Many aspects of the German war machine were truly revolutionary in concept, equipment and scope – and were truly 20th century in characteristics. However, German general officer casualties seemed almost a throwback to earlier warfare, where combat commanders led and often died in the most forward of battle formations. And equally as often, it seems as if these significant losses were almost self-inflicted. German Army doctrine demanded that senior leaders be forward with the troops; many general officers were in actuality products of the First World War in their attitude toward lethality (i.e., what could kill them and what probably would not), and the officer rotation system frequently sent general officer replacements into action with inadequate survival training.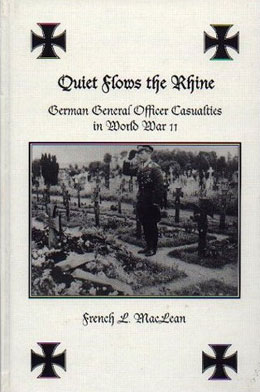 So if you did not know that -
Generalleutnant Kurt Himer (Commander, 46th Infantry Division) and SS-Brigadeführer Fritz Witt (Commander of the 12th SS Panzer Division "Hitler Youth") were killed by naval gunfire.
SS-Obergruppenführer Theodor Eicke (Commander, 3rd SS Panzer Division "Death's Head"), General der Infanterie Paul Laux (Commander, 16th Army) and Generalleutnant Kurt Thomas (Commander, 999th Light Africa Division) were killed when their aircraft were shot down.
Generalmajor Kurt Kalmukoff (Commander, 31st Infantry Division), Generaloberst Ritter von Schobert (Commander, 11th Army), Generalleutnant Ludwig Löweneck (Commander, 39th Infantry Division, Generalleutnant Friedrich Schmidt (Commander, 50th Infantry Division), Generalmajor Bruno Hippler (Commander, 329th Infantry Division), Generalmajor Heinz von Randow (Commander, 21st Panzer Division), and Generalleutnant Wolfgang Fischer (Commander, 10th Panzer Division), were all killed in minefields. And to add insult to injury, Fischer drove into a poorly marked friendly Italian minefield!
– You may want to get this handy little book that is full of interesting information.
71 photographs, 28 maps, 211 pages.
Quiet Flows the Rhine, German General Officer Casualties in World War II (auf Englisch, 71 Fotografien, 28 Landkarten, 211 Seiten.)  Deutsche Generäle im zweiten Weltkrieg getötet (Heer, Luftwaffe und Waffen-SS.)  Wie, wo, wann und warum.  J. Fedorowicz Verlag.
Comments on Quiet Flows the Rhine
"…A most valuable study of the German Army in the Second World War, which I guard with care in my study."
- Sir John Keegan Royal Society of Literature historian, author of The First World War, The Face of Battle, Six Armies in Normandy, A History of Warfare, and The Mask of Command
---
"A meticulous, unusual, and highly enlightening study that offers exceptional insight into life and death within the German general officer ranks during World War II. French L. MacLean is a first-rate historian, and he has written a first-rate book that should interest specialists and general readers alike."
- Rick Atkinson Three-time Pulitzer Prize winner, author of Crusade and An Army at Dawn
---